"T" SHIRT/BOTTLE BARREL
---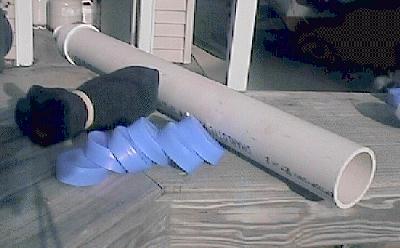 You can build this 3" barrel for your spudgun. If you have a detachable barrel, then you can interchange this barrel with your original barrel. With the new 3" plastic wads you can use this barrel for shooting "T" shirts or 20oz plastic bottles.
Spudgun now has 3" plastic wads in stock. If you want to really get a good tight gas seal on the 3" barrels use these wads for the best performance. Another use for this barrel with our wads would be for launching "T" shirts into the bleachers or crowds. You can use a standard Fuel type gun without the worry of catching the T shirts on fire when shooting out of a fuel type gun.
We are now offering fully assembled 3" barrels that include 6 plastic wads. The wads can be reused several times before wearing them out. Additional wads are available form Spudgun.com. Check the order form for pricing ("T" shirt not included)
See the order form for barrel and wad pricing.
---
Copyright 1997 - 2008, www.spudgun.com