Pressure testing
Spudgun.com has tested the following fuels listed on this page. The information includes the velocity and chamber pressure of each shot averaged over 3 shots. Velocity is the speed that a projectile is moving or feet per second (fps). The velocity was measured at the barrel of the spudgun. The chamber pressure was recorded using a pressure gauge attached to the end cap of the chamber. The projectile for each shot varied since the projectile was a potato. Since metering of the fuel is difficult only 1 to 2 seconds of spray into the chamber was used, with the exception of propane. Since propane is a gas the problem of shorting out the ignitor was not a factor. Since moisture, temperature, humidity can effect the results, 3 shots of each fuel was used and an average velocity and pressure was calculated.
All measurements were recorded with a bullet chronograph and a test bed that consisted of a barrel rest for the spudgun barrel to assure that each shot was recorded at the same distance to the chronograph The chamber pressures were recorded using a Automotive combustion chamber gauge mounted in the screw cap of the chamber. Ambient temperatures and humidity were constant.
Spudgun.com does not guarantee that you will achieve the same results that our test show. The data posted here is for reference only and spudgun.com is not responsible for any differences you may encounter.
---
Specifications:
Spudgun configuration:
Test #1, stock spudgun with 1.5" x 36" barrel.
Projectile:
Potato wad. size weight
1.5 varied.

Results, test #1:
36" X 1.5" BARREL
FUEL

SHOT 1

SHOT 2

SHOT 3

AVG.
VEL. /PSI.

AQUANET HAIRSPRAY

188/15

206/20

175/12

190/16

GUMOUT

305/30

355/42

325/20

328/31

SECONDWIND

300/40

212/20

255/30

256/30

GUNK

255/30

230/22

190/17

225/23

CUTTER

310/40

428/45

382/44

373/43

STATIC GUARD

316/33

277/31

262/28

285/31

PROPANE

282/31

296/32

177/12

252/25

Old Spice
320/41
334/44
392/46
348/44
Equipment:
Chronograph, Shooting CHRONY, model F-1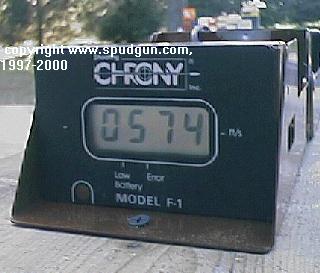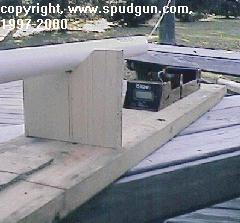 Summary:
The test was performed just like the earlier velocity test but this time we measure both chamber pressure and velocity using a potato wad. Since trying to get the exact same weight with a potato wad was impossible, we selected same size potato's (or as close as possible) for each shot. The velocity and chamber pressure was recorded for each shot (velocity/psi)
The results shows that chamber pressure did not rise above 45 psi, and the common pressure was about 30 psi. Since schedule 40 PVC is rated between 200 psi and 300 psi we did not get anywhere near the rated burst pressure.
I hope we have taken some of the fears out of a chamber exploding during use, however several things will or may cause a chamber or barrel to shatter or come apart during a firing. The biggest cause would be a fracture in the PVC or lack of proper cement during assembly or USING DANGEROUS FUELS.
As always, your comments are welcome....Larryb @ tis.com
---
copyright, spudgun.com, 1997-2022
Last updated 06/27/2022