Spudgun Rockets
The Spudgun Rocket will allow you to shoot LIGHT STICKS attached as the nose cone. Special wadding will fit 3", 2" and 1.5" barrels, (we are working on 4" size). Once the glow stick is activated you insert the wad, rocket and shoot into the night air. These look like tracers bullets. Since the glow stick can be seen, you can retrieve the rocket and reuse it again They also will float in water. You can also put in a wad, pour the glowing liquid into the barrel and shoot into the sky, it will create a cloud of light .
I am selling these rockets in a combo packs of rockets, wads and light sticks. I also offer the wadding for 3", 2" and 1.5" barrels. The wads will allow you to shoot other items that will fit down the barrel and give you a good gas seal.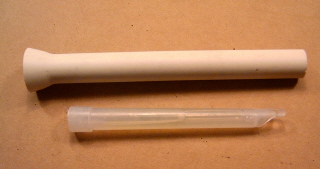 PVC rocket and glowstick

PVC rocket assembled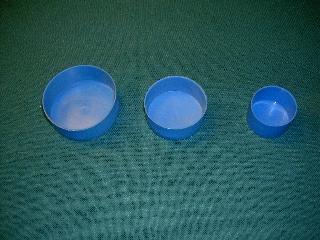 Plastic wads, 3", 2" and 1.5"
*Actual product may vary slightly from above pictures.
---
Product:
3 Pack combo - 3, Spudgun-rockets, 6 wads and 3 light sticks
6 Pack combo - 6, Spudgun-rockets, 12 wads and 6 light sticks
6 Pack of Light sticks
12 pack of Light sticks
12 Pack of 1.5 or 2 inch wads
12 pack of 3 inch wads
25 pack of 1.5 or 2 inch wads
25 pack of 3 inch wads
Check order form for pricing
---
Copyright (c), 1997 - 2008 www.spudgun.com
Last updated on 05/18/14